Call Of Duty Black Ops III Steam CD Key
WIE WEIT WIRST DU GEHEN... Call of Duty: Black Ops III führt die Spieler in eine Zukunft, in der Biotechnologie eine neue Generation von Cybersoldaten hervorgebracht hat. Diese Soldaten sind immer aktiv und immer verbunden mit dem Zentralrechner und anderen Agenten. Sie sind schneller, stärker und cleverer. In einer durch Kriege geteilten Welt müssen die Black Ops-Soldaten schwierige Entscheidungen treffen und düstere Orte besuchen. KAMPAGNE Treyarch definiert die soziale Komponente von Call of Duty neu. Die Kampagne kann jetzt gemeinsam und immer wieder gespielt werden. Die Spieler erleben das epische cineastische Gameplay, für das Call of Duty bekannt ist, sowie neue, arenenartige Elemente, dank derer die Spieler das Spiel jedes Mal mit einer anderen Strategie angehen können. Jeder Spieler kann völlig modifiziert werden, von den Waffen und Ausrüstungen bis hin zu den Fähigkeiten und Outfits. Das Kampagnenerlebnis entwickelt sich mithilfe eines Fortschrittssystems und einer persönlichen Waffenkammer immer weiter. MULTIPLAYER In Black Ops III kommen erstmals Spielverändernde Multiplayer-Elemente wie ein Momentum-Basiertes, verkettetes Bewegungssystem zum Einsatz, mit dem die Spieler sich flüssig Fortbewegen und gleichzeitig die volle Waffenkontrolle behalten. Auch neu in Black Ops III ist das Spezialisten-Charaktersystem, mit dem die Spieler aufsteigen und bestimmte individuelle Fähigkeiten und Waffen des Charakters meistern können. Die Maps wurden von Grund auf für die Verbesserungen gestaltet, damit die Spieler sowohl mit traditionellen als auch fortgeschrittenen Taktiken und Manövern erfolgreich sein können. ZOMBIES Black Ops III ist das bis heute fesselndste und ehrgeizigste Call of Duty Zombies mit einem vollständig EP-Basierten Fortschrittssystem, das den Zombies-Fans Spieltiefe und Wiederspielbarkeit bietet.
Zeige alles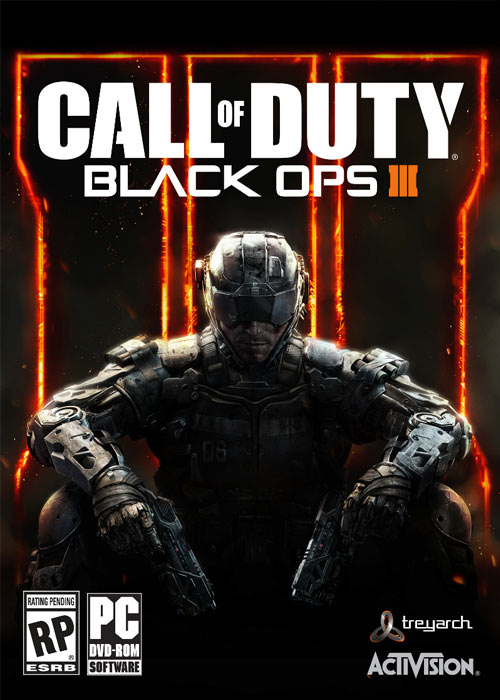 Plattform:
Region:
Tags: FPS
Verfügbarkeit:
Ausverkauft
Das könnte Dir auch gefallen
Produktbeschreibung
Call Of Duty Black Ops III is region-locked and CAN'T be activated in the following countries:Japan, United Arab Emirates, Saudi Arabia, Qatar, Kuwait, Bahrain, Oman, Iraq, Syrian Arab Republic, Yemen, Egypt, Lebanon.

It works on Steam and PC.
Welcome to Call of Duty: Black Ops 3, a dark, twisted future where a new breed of Black Ops soldier emerges and the lines are blurred between our own humanity and the technology we created to stay ahead, in a world where cutting-edge military robotics define warfare.
Black Ops III takes place in 2065, 40 years after the events of Black Ops II, in a world facing upheaval from climate change and new technologies. Similar to its predecessors, the story follows a group of black ops soldiers.As a member of the Black Operations Force, a player suddenly loses contact with half of his teammates during a survey in Singapore. This is due to a major military information leak that led to the failure of all kinds of secret activities on a global scale. The player's mission is to find their own team and expose the truth.
Call of Duty: Black Ops III combines three unique game modes: Campaign, Multiplayer, and Zombies, providing fans with the deepest and most ambitious Call of Duty ever.
Campaign--The campaign in Black Ops III is designed to support 4-player cooperative gameplay, allowing for bigger, more open level design and less corridor shooting.The campaign features its own progression system, featuring unlock tokens which must be used to acquire different weapons and gears as they progress through the campaign.
Multiplayer--The multiplayer introduces a new momentum-based movement system, which utilizes thruster packs to allow players to perform slow boosts into the air, as well as perform wall running and sliding, all the while giving players complete gun control.
Zombies--Zombies features a new XP progression system, which allows players to unlock items in a similar fashion to multiplayer and campaign.