Euro Truck Simulator 2 Steam CD Key
Ob Norden, Süden, Osten oder Westen – wo immer auch in Europa Waren, Maschinen oder sonstige Güter benötigt werden, da wird auch im Euro Truck Simulator 2 geliefert werden. Befahren Sie im Nachfolger zum beliebten Euro Truck Simulator die Straßen von mehr als 60 europäischen Städten in unterschiedlichen Zugmaschinen und werden Sie zum König auf Europas Straßen. Übernehmen Sie die Kontrolle über Ihre eigenen originalgetreuen Zugmaschinen diverser Hersteller, befahren Sie die abwechslungsreichen Straßen Europas, achten Sie dabei stets auf Ihre stets fragile Fracht und halten Sie Ihren Zeitplan ein. Stellen Sie mehr und mehr Mitarbeiter ein und kaufen Sie weitere Trucks, um zum angesehenen Geschäftsmann aufzusteigen und Ihre Spedition weiter auszubauen. Werden Sie Chef Ihrer ganz persönlichen Spedition und verdienen Sie sich eine goldene Nase! Nutzen Sie in der umfangreichen Werkstatt eine Vielzahl von Tuningmöglichkeiten mit originalen Zubehörteilen, wie zum Beispiel Motoren, Scheinwerfern, Bodykits und vielem mehr, um Ihre Trucks nach Herzenslust und individuellem Geschmack zu verbessern. Entdecken Sie in "Euro Truck Simulator 2" die unterschiedlichen Aspekte und Seiten des LKW-Gewerbes und erleben Sie, was es heißt, ein waschechter Truck-Fahrer auf Europas weiten Straßen zu sein. Realismus wird in "Euro Truck Simulator 2" nicht umsonst großgeschrieben! Denn dank mehr als 60 liebevoll nachempfundenen und detailgetreuen europäischen Städten und Ortschaften, vielen verschiedenen, zum Teil auch original gebrandeten, Zugmaschinen von realen Fahrzeugherstellern inklusive Tuningmöglichkeiten und einem wirklichkeitsnahen Wirtschaftssystem mit unterschiedlichen beeinflussbaren Variablen fühlen Sie sich in "Euro Truck Simulator 2" wie hinter das Lenkrad eines echten LKWs versetzt! Entdecken Sie auf Ihre ganz individuelle Art und Weise die vielen unterschiedlichen und abwechslungsreichen Seiten von "Euro Truck Simulator 2" und tauchen Sie ein in den umfangreichen Alltag eines der spannendsten Gewerbe der Welt. Der "Euro Truck Simulator 2" verspricht einen hohen Grad an Abwechslung, viel Langzeitmotivation und ein wirklichkeitsnahes Spielgefühl wie Sie es mit Sicherheit noch nicht erlebt haben!
Zeige alles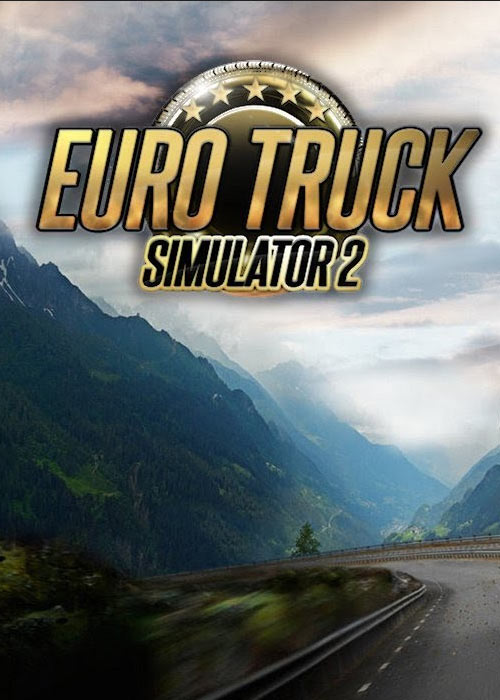 Heiss
Plattform:
Region:
Tags: SIM
Das könnte Dir auch gefallen
Produktbeschreibung
This product works on Steam and PC.
Euro Truck Simulator 2 is a vehicle simulation game where players can start their own truck team after they have completed their shipping tasks,can even buy their own garage,hire their own dedicated driver and set up their own company.Players can even customize their own truck exhaust system to travel across more than 100 European cities,buy more trucks and build their own transport team.
Players choose their HQ's location in any of the game map's cities. At first, the player can only take what are known as Quick jobs—these jobs involve making hired driver deliveries while employed by a delivery company, with a provided truck and all expenses covered.As the player earns money or takes bank loans, they can eventually afford to buy themselves a truck, acquire a home garage, and start making more money by delivering cargo using their own truck instead of just being a driver for hire.
Travel across Europe as king of the road,a trucker who delivers important cargo across impressive distances!With dozens of cities to explore from the UK,Belgium,Germany,Italy,the Netherlands,Poland,and many more,your endurance, skill and speed will all be pushed to their limits.If you've got what it takes to be part of an elite trucking force,get behind the wheel and prove it!
Key Features:

*Transport a vast variety of cargo across more than 60 European cities.

*Run your own business which continues to grow even as you complete your freight deliveries.

*Build your own fleet of trucks, buy garages, hire drivers, manage your company for maximum profits.

*A varied amount of truck tuning that range from performance to cosmetic changes.

*Customize your vehicles with optional lights, bars, horns, beacons, smoke exhausts, and more.

*Thousands of miles of real road networks with hundreds of famous landmarks and structures.

*The game features 77 cities in thirteen different countries, over twenty different types of cargo and over fifteen fictional European companies.