Overwatch Game Of The Year Edition CD Key Global
WILLKOMMEN BEI OVERWATCH Die Zukunft beginnt jetzt. Seid ihr dabei? Werdet Mitglied einer legendären Eingreiftruppe aus Soldaten, Wissenschaftlern, Abenteurern und Außenseitern: Overwatch. Wählt euren Helden und kämpft auf den Schlachtfeldern der Zukunft, Krümmt die Zeit, widersetzt euch den Gesetzen der Physik und meistert außergewöhnliche Fähigkeiten in diesem ultimativen teambasierten Shooter. Sie beendeten die Krise und helfen in den folgenden Jahrzehnten, den Frieden zu sichern. Es folgte ein Zeitalter der Entdeckungen und Innovationen. Doch mit den Jahren ging der Einfluss von Overwatch zurück, bis die Organisation schließlich ganz aufgelöst wurde. Wählt euren Helden In Overwatch findet ihr eine Vielzahl von Helden: von der zeitreisenden Abenteurerin über den gepanzerten, Raketenhammer schwingenden Krieger bis hin zum meditierenden Robotermönch. Jeder der Helden spielt sich anders, daher wird das Meistern ihrer Fähigkeiten erst ihr ganzes Potenzial freisetzen. Kein Held gleicht dem anderen Overwatch ist Vergangenheit ... aber die Welt braucht noch immer Helden. Spielt eure Rolle Ob ihr euch in der Offensive mitten ins Getümmel stürzt, defensiv vorgeht, indem ihr Deckung mit eurem Energieschild gebt, oder eure Verbündeten unterstützt, indem ihr ihren Schaden verstärkt – der geschickte Einsatz eurer Fähigkeiten im Verbund mit euren Teammitgliedern ist immer der Schlüssel zum Sieg. Teambasierte Ziele Heldenteams kämpfen an vielen Orten auf aller Welt gegeneinander. Ob ihr die Geheimnisse im mysteriösen Tempel des Anubis beschützt oder einen EMP-Generator sicher durch King's Row geleitet – die Welt ist euer Schlachtfeld. Overwatch ist Vergangenheit ... aber die Welt braucht noch immer Helden. FEATURES: • Wählt aus 21 Helden, jeder mit einem einzigartigen Set gewaltiger und spielverändernder Fähigkeiten • Wechselt jederzeit den Helden und wendet das Blatt zu euren Gunsten • Entfesselt unglaubliche Kräfte wie Drachenschlag, Transzendenz, Gravitonbombe und viele mehr • Spiel komplett in Deutsch • Zum Spielen ist eine Internetverbindung und PlayStation Plus erforderlich! Overwatch Game of the Year Edition beinhaltet: • Das komplette Spiel • 10 kostenlose Lootboxen mit kosmetischen Belohnungen für eure Overwatch-Helden • Origin-Skins für 5 Overwatch Helden • Das Haustier Baby Winston für eure Abenteuer in World of Warcraft • Die Heldin Tracer für epische Schlachten in Heroes of the Storm • Und vieles mehr...
Zeige alles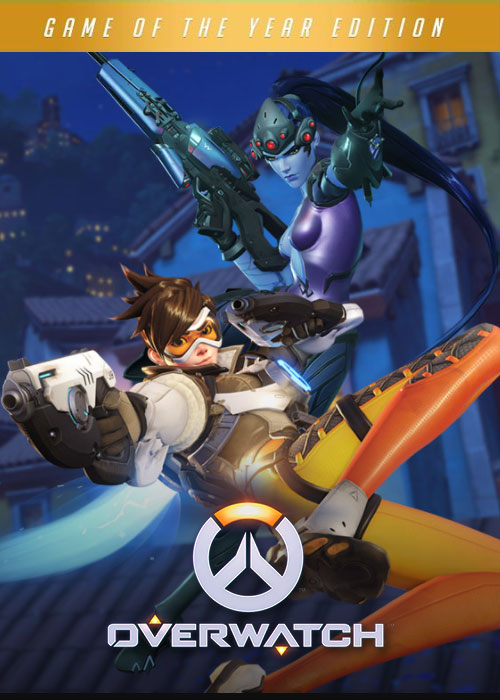 Neu Heiss
Plattform:
Region:
Tags: MOBA
Das könnte Dir auch gefallen
Produktbeschreibung
A Global key,but CANNOT be activated and played in China,works on PC.
Overwatch is a team-based shooter where heroes do battle in a world of conflict.It is based on the future of the Earth,about the story between the human,overwatch members and intelligent machinery. There are 24 Heroes in the game, each with its own iconic weapons and skills.
Clash on the battlefields of tomorrow and choose your hero from a diverse cast of soldiers, scientists, adventurers, and oddities. Bend time, defy physics, and unleash an array of extraordinary powers and weapons. Engage your enemies in iconic locations from around the globe in the ultimate team-based shooter. Take your place in Overwatch. The world needs heroes.
Features:

* Welcome to Overwatch--In a time of global crisis,an international task force of heroes banded together to restore peace to a war-torn world.
* Overwatch--It ended the crisis and helped to maintain peace in the decades that followed, inspiring an era of exploration, innovation, and discovery. But after many years, Overwatch's influence waned, and it was eventually disbanded.Overwatch is gone… but the world still needs heroes.
* Choose A Hero--Overwatch features a wide array of unique heroes, ranging from a time-jumping adventurer, to an armored, rocket-hammer-wielding warrior, to a transcendent robot monk. Every hero plays differently, and mastering their abilities is the key to unlocking their potential. No two heroes are the same.
* Play Your Role--Whether you're engaging in combat on the front line, providing defensive cover with your energy shield, or supporting your allies by amplifying their damage, every hero's abilities are designed to be effective as part of a team. Learning to utilize your abilities in concert with your teammates' is the key to victory.
Bonus contents of the Game of the Year Edition:

* 10 Bonus Loot Boxes

* Hero Skins

* Heroes of the Storm - Tracer Hero

* World of Warcraft - Baby Winston Pet

* Diablo III - Mercy's Wings

* StarCraft II Ingame Portraits and a Hearthstone Card Back