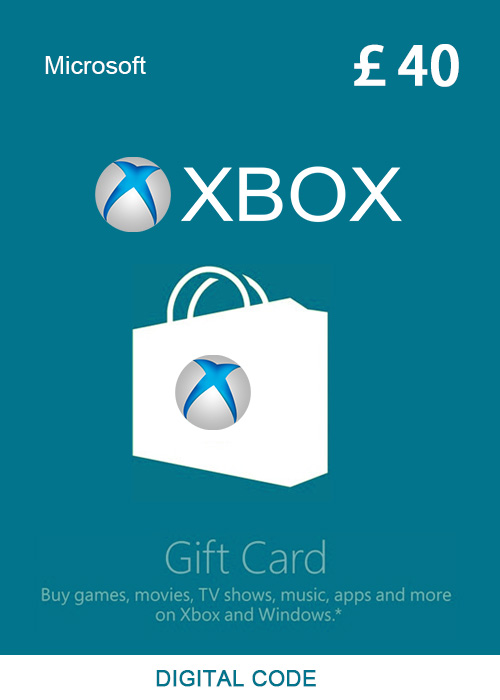 Heiss
XBOX Live Gift Card 40 GBP Key
XBOX Live Gift Card 40 GBP Key adds 40 GBP to your XBOX Live account. It can be used only on UK accounts.It is in Stock now,welcome to order on SCDkey !
Plattform:
Region:
Verfügbarkeit:
Verfügbar für die Bestellung
Verkaufsschlagerl! Die Nachfrage übersteigt das Angebot! Wir füllen unsere Lagerbestände auf, Wir senden die Schlüssel innerhalb von 48 Stunden nach Ihrer Reservierung an Ihre E-Mail-Adresse.
Produktbeschreibung
Choose from thousands of amazing apps, games and more. Xbox and Windows Store gift cards are a great gift option for friends and family and the perfect choice as an allowance or the occasional present for your kids.

Use the Xbox Live Gift Cards to recharge your credit balance as an Xbox Live member, enabling you to shop the contents offered in the Xbox Live Store. Among other things, you can find Xbox Live Arcade Games, bonus content for Xbox 360 and Xbox One games, Avatar extras or Season Passes there.You also need a sufficient credit balance to rent or purchase movies in HD or TV series, changing your Xbox Live Gamertag, and more. (Note:The balance is then credited to the customer in GBP.)

Features:
- Xbox Games: Play online with friends, download new games and addons, and receive exclusive discounts each week for Arcade Games or Games on Demand
- Xbox Music: More than 30 million songs to discover, stream, download and collect - on your TV, smartphone, tablet or PC
- Xbox Video: Rent or purchase the latest TV series and movies in HD on your tablet, PC or TV - no problem with Xbox Video. Enjoy contents in HD, wherever you are
Das könnte Dir auch gefallen