Civilization VI Rise And Fall DLC Steam CD Key EU
Bei Civilization VI geht es darum, ein Reich zu errichten, das die Zeit überdauert, und die Rise and Fall-Erweiterung beinhaltet neue Auswahlmöglichkeiten, Strategien und Herausforderungen für Spieler, während sie eine Zivilisation durch die Zeiten führen. Kannst du die Loyalität von Menschen auf der ganzen Welt inspirieren oder wirst du Städte an deine Rivalen verlieren? Wirst du ein Goldenes Zeitalter für deine Zivilisation etablieren können oder in einem Dunklen Zeitalter versinken? In Civilization VI: Rise and Fall wirst du wirklich zu einem Anführer der Zeitalter.
Zeige alles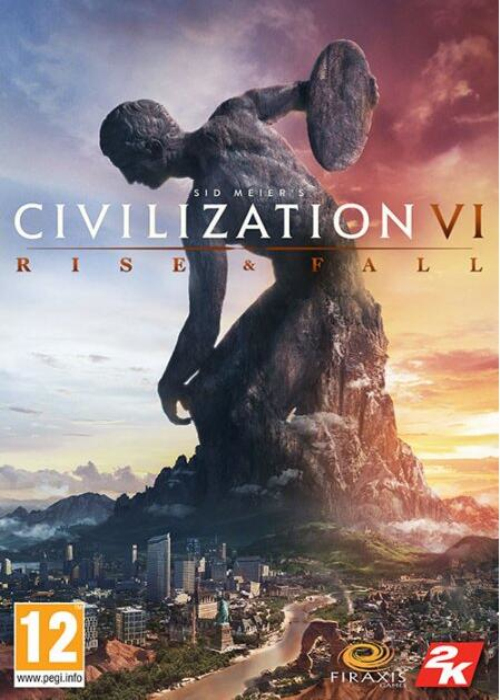 Neu Heiss
Plattform:
Region:
Verfügbarkeit:
Verfügbar für die Bestellung
Verkaufsschlagerl! Die Nachfrage übersteigt das Angebot! Wir füllen unsere Lagerbestände auf, Wir senden die Schlüssel innerhalb von 48 Stunden nach Ihrer Reservierung an Ihre E-Mail-Adresse.
Das könnte Dir auch gefallen
Produktbeschreibung
Die erfolgreiche Führung einer Zivilisation kann ihr ein wohlhabendes Goldenes Zeitalter bescheren, doch genauso können Rückschritte in einem Dunklen Zeitalter resultieren. Reagiere klug auf die Herausforderungen eines Dunklen Zeitalters, damit deine Zivilisation sich erneuern und in ein Heldenhaftes Zeitalter eintreten kann. Ermutige deine Bürger zu Loyalität, um deine Grenzen zu bewahren, oder inspiriere die Loyalität anderer Zivilisationen, um dein Reich zu erweitern. Die Grenzen auf der Welt verschieben sich ständig, da freie Städte sich aus Reichen lösen und Nachbarn um die Loyalität von Städten auf der gesamten Karte wetteifern.
Mit dem neuen Gouverneurssystem können Spieler ihre Städte noch weiter anpassen und spezialisieren und auf die neuen Herausforderungen durch Dunkle Zeitalter und Loyalität reagieren. Jeder der sieben einzigartigen Gouverneure verfügt über seinen eigenen Beförderungsbaum und somit einen individuellen Spielstil und Strategien.
Zusätzlich zu diesen neuen Systemen sind acht neue Zivilisationen und neun neue Oberhäupter in Civilization VI: Rise and Fall verfügbar. Acht neue Weltwunder und eine Vielzahl neuer Einheiten, Bezirke, Gebäude und Modernisierungen können außerdem gebaut werden. Es gibt mehr Möglichkeiten für Bau, Eroberung und Inspiration als je zuvor.